| | |
| --- | --- |
|   | |
|   | Dave Riccio, Owner/Technician |
By Dave Riccio, ASE Certified Technician, Owner of Tri-City Transmission & Auto Repair, Co-host of Bumper to Bumper Radio
CASE STUDY: Customer Saves $6,000 over multiple quotes
Rear Ended Sensation When Coming to A Stop, Funky Shifting in General
6HP24
This vehicle is a clean, one owner with good maintenance records. This is a typical pattern symptom.  When we say pattern, it's because we experience it over and over again in multiple vehicles with similar style transmissions. It's not unique in any way unless you're not familiar with it, in which case it's very unique. The symptoms: The vehicle will start to develop an unexpected jolt when coming to a stop. If feels like maybe you were rear ended by another car, but there is no other car. It can be a bit startling and some are so exacerbated that it scares you, like the transmission is probably laying on the road behind you. This is a harsh down shift. Sometimes the transmission will also develop harsh or poor up shifts. The last symptom that often comes into play as it did in this instance, are the delayed initial engagements. This is when you are in the driveway and move the shift lever from park to reverse or park to drive. It can be delayed and when it finally grabs, it grabs harsh. These sensations can take a beautiful car and make it feel like a real jalopy.
I can tell you this story over and over again. We see it weekly. Most shops and dealerships don't know how to fix this transmission. It's even worse of a black box to most unknowing technicians as the German auto manufacturers have opted to put the transmission computer inside the transmission. This scares a lot of technicians off and they either replace or refer out. This particular model of BMW has a software update called "California Stops" to address some of these concerns. Let me tell you, it never works, especially because it is most often misapplied.  Software in most cases can't overcome failed or severely worn mechanical parts. The software update does have its place, however, many technicians not well versed in transmissions can't differentiate the negative symptoms of the "California Stops" software update versus the symptoms we had with this vehicle. When in doubt, many technicians and dealerships simply recommend a transmission to the tune of $6,000 to $8,000 to $10,000 - an unnecessary waste of money and sometimes we have seen these cars be worse off after consumers spend the money.
After this particular customer was given multiple quotes to replace his transmission, he called us simply wanting our price.  He was referred by a friend and was just looking for someone to confirm what he already thought was wrong with his vehicle. This was only after multiple technicians told him the same thing. he needed a transmission.  As we know, in many cases, customers come to us with bad information from well intentioned misinformed technicians. So the last thing we want to do is muddy the waters any more with inaccurate pricing. Often times we have to unwind the bad information in the customer's mind. Unfortunately, unless we have run our systematic diagnostic process we don't know what is going on with the car. We can guess, but have found creating false expectations is never helpful. We always perform the diagnostic first, than provide an accurate estimate based off of good diagnostic work.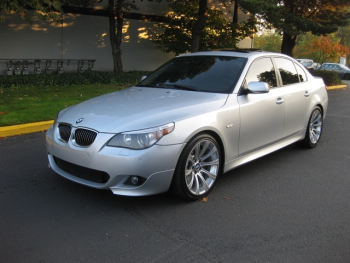 This customer convinced himself he needed a transmission, after all, the BMW dealership told him so. Well, we performed our diagnostic and pinpointed the problem in the accumulator section of the valve body along with a few lazy solenoids. The valve body is the hydraulic and electrical control of this transmission. Unfortunately, BMW wants almost as much money for the valve body as the whole transmission with several weeks wait time. So we have learned to remanufacture this valve body to provide legitimate solutions and save a perfectly healthy transmission from unnecessary replacement.  In turn, we save the customers thousands of dollars. We have done it dozens and dozens of times over. It should be noted that consumers don't want to ignore negative symptoms as they can take a small problem and make it much worse. Sooner rather than later is the best way to avoid expensive transmission repair.    
6HP24 is the model number of this transmission. There is some slightly different nomenclature depending on the vehicle or application it is utilized in. It fits in more vehicles than you would suspect, such as: Porsche, Land Rover, Audi, BMWs and even Ford Truck if you can believe that. There are several variations and cousins of the 6HP in the ZF Friedrichshafen line.  ZF is a major automatic transmission manufacturer, they build sweet stuff - at least in the mind of a transmission guru, that's us, we appreciate the technology and what they accomplish. 
Transmission Background Information:
Often this transmission has a reputation as being a non-serviceable and sealed transmission. On the transmission pan of the BMW there is a sticker that says "lifetime fill". BMW printed this sticker as it is a complete contradiction to the ZF bulletins that recommend regular fluid service intervals. We see valve body and solenoid failures as a lack of maintenance. The modern valve body is very busy in the name of shift quality. There are a lot of moving pieces and they need good name brand ZF fluid. Service is highly recommended to prevent coming to visit us for valve body repairs or much worse, complete transmission custom remanufacturing.
The Advantage of our Custom Transmission Repair Process.
At Tri-City Transmission and Auto Repair, we have been providing custom rebuilt, custom repaired and custom remanufactured transmission services for over 45 years. With that experience, we know how, why and what the patterns of failure are of each transmission. This allows us not to replace transmission when they are not needed.  We are regularly able to save customers thousands of dollars on unnecessary replacements of transmissions. In general repair terms, we equivalate many of these misdiagnosed and replaced transmissions to replacing an engine when all you needed was a spark plug. Unfortunately, transmissions are such a black box to most of the industry and the fact that people "don't know what they don't know", thousands of dollars and natural resources are wasted unnecessarily replacing transmissions. 
---
Repair Order #1031778, 11/01/18
Google Review from Norm W:
"I was having transmission problems with my BMW and after a few check ups at other shops I was told I needed a complete new transmission in the neighborhood of 9 to 10,000. I was recommended by my sister-in-law to see Tri- City Transmission in Tempe. Dave the owner explained the situation to me of having to diagnose the problem and then make a decision as to which way to go to fix the problem. I left the car with Tri City and the next day I received a call from Dave that they could fix the problem without needing a new transmission for less then 3,000. I gave them the ok. I picked up the car after a few days and the car is running great without any of the problems I was experiencing before the repair. Tri City's reviews are no joke. They are the real thing when it comes to transmissions. I am sure they are as good on all other repairs as well. Thank you Tri City Transmission."
---
BMW 6HP24 Transmission Problems | BMW 545 csi Transmission