---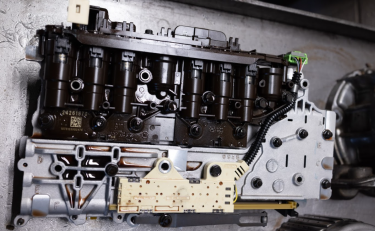 Transmission Background
We think this transmission is considerably better than its 4-speed predecessors. The 4L60E/4L80E. The 6L family of transmissions is different from the transmission past as it has the transmission computer inside of the transmission. This computer is referred to as a Transmission Electrical Control Hydraulic Module (aka - TECHM).
This computer in the transmission limits shops who can actually diagnose and properly work on this generation of transmission. In addition to the actual computer part, the TECHM has speed sensors, a range sensor, pressure switches, temperature sensors, solenoids, and more.
---
In-Vehicle Repairs for the 6L45 / 6L50 / 6L80 / 6L90:
We would venture to say that ⅔ of the time customers call for a price on this type of transmission that after our diagnosis, they didn't need a transmission at all. Their transmission could be repaired without any major disassembly of the vehicle or transmission. These repairs in many cases end up being in the valve body. The valve body is the hydraulic brain of the transmission. The valve body is integral to the TECHM which can also have issues.
Some shops will try to fix a transmission by guessing/installing a TECHM, but that is an expensive guess. We have a specific testing tool for testing TECHM(S) while it is still installed in the vehicle. This is not a tool you will find in 99% percent of shops.
---
Weak Spots of the 6L45 / 6L50 / 6L80 / 6L90
1. The "Torque Converter" - We see torque converter clutch failures pretty frequently with this transmission. The good news, if you catch them soon enough, you can replace the torque converter, address some of the other weak spots in the transmission and not have to replace, re-manufacture, overhaul or rebuild the transmission.
2. The "1,2,3,4 Clutch Piston" - This clutch piston cracks creating a hydraulic leak. If it is caught soon enough, again the transmission can be cured without a full overhaul or replacement. There are different versions of this part. Based on the casting numbers on the part we can spot the inferior clutch pistons and replace them before that particular clutch failure and/or transmission failure.
3. "Pressure Regulator Valve" issues - When this valve wears, it helps to cause some of the other failures in the transmission. One of which is torque converter clutch failure. It is only accessible by removing the transmission from the vehicle.
Although all three of these issues listed above require removing the transmission from the vehicle for repair, the repairs can be made without having to rebuild, re-manufacture or replace the transmission saving customers thousands.
---
Full Custom Remanufacture Service
There are instances where the transmission is simply worn out and does need to be remanufactured. We handle this too. Because we understand the failure points, we intentionally address them and we are able to build your transmission that in a lot of ways is better than it was new.
Just a few of the upgrades available - otherwise, too many to list
Billet Torque Converter (not standard most places)
Remanufactured Transmission Electrical Control Hydraulic Module "TECHM" (not standard most places)
Updated clutch pistons that don't have cracking issues (not standard most places)
Updated regulator valves (not standard most places)
Transmission Warranty - 6L45 / 6L50 / 6L80 / 6L90
Depending on the repair that we do, all of our work is gladly guaranteed as we are looking to make friends assuring the relationship with a great warranty. Our warranties go out as long as 5 years and 100,000 miles. We also provide a nationwide warranty backed at over 2000 locations nationwide.
The Advantage of our Custom Transmission Repair Process
At Tri-City Transmission and Auto Repair, we have been providing custom rebuilt, custom repaired and custom remanufactured transmission services for over 45 years. With that experience, we know how, why and what the pattern failures are of each transmission. We are regularly able to save customers thousands of dollars on unnecessary replacements of transmissions. In general repair terms, we equate many of these misdiagnosed and replaced transmissions to replacing an engine when all you needed was a spark plug. Unfortunately, because transmissions are such a black box to most of the industry and the fact that people don't know what they don't know, thousands of dollars and natural resources are wasted unnecessarily replacing transmissions.
---
Other Related Articles
---
Case Study: Chevrolet Silverado, Chevrolet Colorado, GMC Sierra, Cadillac Escalade - Truck Transmissions